Embellish Your Hair with Beads: 3 Ideas to Try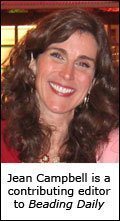 I've attended a few bead shows lately where I noticed a trend: Middle-aged women with strands of sparkly stuff in their hair.  At first I thought it was very silly—something that should be left for the Little Mermaid set or a drunken Mardi Gras pedal pub ride. But when I saw someone I really respect with the treatment at consecutive shows, I started to look at it differently…I pulled out the sociologist in me and dissected it as a cultural phenomenon.
After eyes and mouth, hair is often the next thing people look at when they meet; the reason, I think, we all spend so much time grooming it. It ends up being a strong outward expression of who we are. And what better way to express our love of glimmer than to add shiny stuff where people look first? We add it to our hands, wrists, necks, and ears, so why not hair? I figure adding it up top not only expresses whimsy and a certain sense of creative freedom, but it also serves as a great conversation-starter.
Ideas for adding beads to your hair
The glimmer strands I've been seeing sported at shows aren't the only hair sparkle my middle-aged compatriots seem to be wearing, though. The other day I met a woman who had the most beautiful strand of beads and feathers in her hair, and the way she did it—very understated—made it a very sophisticated look. Her treatment of the idea got me thinking about different ways to connect beads to hair:
1: Thread-and-bead.  Tie embroidery thread or other colorful string onto a clump of hair. Braid, wrap, or tie knots around the clump, adding beads as you go.
| | | |
| --- | --- | --- |
| |   | 2: Clip it. Pair thin beading wire and lightweight beads to form a strand of beads. Crimp one end to a tiny clip and add a teardrop or feathers to the other end. Simply clip the strand into your locks wherever you'd like. |
|   |   |   |
| |   | 3: Hair-as-string. Use the hair as a stringing material, adding beads right to strand. It's easiest to get the hair through the beads by first looping a short length of beading wire around the strand, adding the beads to the paired wire ends, then pulling the wire so the hair slides through the beads. Use a tiny rubber band (like an orthodontia band) to stop the bead(s) from sliding off. |
Stringing is much more than embellishing your lovely locks. Learn many other types of beading instructions in Stringing magazine.
So what do you think about adding glitter to hair? Is it a middle-aged yearning for younger days, or a fashionable trend? Please share your thoughts (and any hair-beading tips) on Beading Daily.