Dos and Don'ts for Combining Crystals and Wire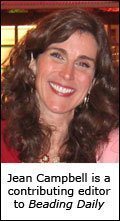 I was lucky enough to spend some time with the folks at the Rocky Mountain Bead Society last week. During their Show and Tell (a wonderful tradition with most bead societies where members present their new creations), one of the ladies showed off a couple of crystal bracelets she'd made with off-loom stitches. I was sitting at least 20 feet away and those things blinded me. People in the audience immediately started shouting out, "Wow!," "Look at the bling!," and other spontaneous phrases of sparkle awe.
It is pretty amazing that even those of us whose stashes are filled with ethnic ceramic pendants and organically dyed bone beads get all aflutter when we encounter such glistening beads. Like ravens, we can't help but be attracted to shiny bright objects and want to bring them back to our nests. One look at my bead cache can tell you I'm certainly not immune; perhaps you're not, either?
A piece of jewelry made primarily with crystals will naturally wow 'em. But sometimes all you need is a dash of sparkle here or there. It's in those cases that I like to include crystals on wire, whether as head-pin dangles or peppered into a strung design.
| | |
| --- | --- |
| In fact, I was just speaking with Editor Denise Peck, who was telling me about her plans for Step-by-Step Wire Jewelry's October/November 2010 issue, which will feature crystals. The issue will have all kinds of great ideas for incorporating wire and crystals in your jewelry, just in time for the holidays. I'm excited to get some new ideas on how to mix in that crystal twinkle in my wire designs. | My Le Temps Necklace |
My conversation with Denise got me thinking about how I use wire and crystals, and I realized there are quite a few dos and don'ts, so I thought I'd share a handful:

Bead caps can help protect your crystals.

If you're working with transparent crystal beads, carefully consider your wire color. Silver or gold wire strung through a transparent bead will add to the sparkle, just like a silver- or gold-lined seed bead. Black colored craft wire? Well, it'll give you a look, but it's not going to add to the sparkle.

When forming a wire bail for a crystal, be sure to add enough wiggle room on each side of the bead or pendant. If the wire is too close, it can scratch or chip the crystal.

Consider using bead caps in your design to protect your crystal beads from the slight abrasion that a heavy-duty wrapped loop might cause.

Be careful when tightening wrapped loops or other securing techniques when working with crystal beads and pendants. Crystals are sturdy, but they are glass and can shatter. When I was designing my Le Temps Necklace

(pictured above), I broke one of these beautiful crystal orchid pendants by tightening the bolt that holds it in place too much.
Looking forward to unique ideas and more tips for working with crystals? Subscribe to Step by Step Wire Jewelry to go crystal crazy in the October/November 2010 issue and for year-round wire inspiration.
How do you achieve sparkle awe? What wire/crystal tips do you have for the rest of us? Join in on the discussion on Beading Daily.