Create a Freeform Bracelet from Scraps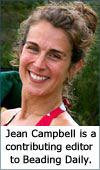 Insta-Freeform
If you're a girl like me, whose bun (not buns, mind you) is sometimes wound a bit too tight, you might lean toward the idea that free-form beadwork looks like something the cat dragged in. That said, I've also found that forcing my brain to make creative decisions about color and pattern placement, shaping, and stitching is a really good way to limber it up, and freeform beadwork is a fun way to do it.
Starting a new project that you know you won't wear isn't quite appealing, though, is it? So here's a tricky way to get that creative brain toned without putting in much time or materials. I read about this technique years ago, but have only tried it recently in earnest. This bracelet only took about 1½ hours to make, and heck, I might even sport this one!


How to Create This Freeform Bracelet
1. When you're making any beadwork project, keep all your false starts, mistakes, and general "dogs". If possible, leave the tails long. I just throw mine in a plastic zip bag.
2. Sort the bits of beadwork into colorways. Experiment with alternate palettes. If it's helpful, pull out a color wheel to get ideas.
3. Start arranging the pieces into a line that will fit your wrist. It's helpful if the edges more or less match, but it's not crucial. If you have a wide piece you want to incorporate but no pieces to fit it, try matching it with two smaller ones. This is the part of the process that takes the longest. It's like putting together a puzzle.
4. Use the tail threads to stitch the pieces together. You don't have to be perfect here—you just need to make tight, clean connections with little thread showing. If you don't have enough tail thread to use, just start a new thread on one of the pieces as you would with any project.
5. Use the bits of beadwork to make a button/loop clasp or use "new" beads to make one.
---
Jean Campbell writes about beading and life every Wednesday on Beading Daily. If you have comments or questions for Jean, please post them on the website. Thanks!