Beadwork Magazine December 2018/January 2019
The closing cycle of a magazine is filled with excitement, but more the kind of excitement that comes with a lot of parts and pieces in motion at the same time—and doing your best to keep up! To do this well, it takes a team that works closely and communicates well with each other. As we close the December/January 2019 issue of Beadwork magazine and begin work on the next, I'd like to take a moment to acknowledge the hard work done by the team I have the privilege of working with on a daily basis.
Lavon Peters
As managing editor of Beadwork, Lavon kept things in motion so we hit all of our deadlines. More than that, she was a master at catching spelling, grammar, and technical errors. She could look at a project in layout form and spot inconsistencies in spacing, formatting, and color. These examples only scratch the surface of all Lavon is capable of, and we are all grateful for all she contributed during her time with the team.
Lavon also wrote wonderful articles for the magazine and interweave.com. Two recent posts by Lavon include Learning Kumihimo at Bead Fest with Maggie Thompson and 5 Reasons to Expand Your Beading Repertoire.
Meredith Steele—Technical Editor
Meredith is the newest member of the team and brings with her a fierce sense of pride in her work. By technical editor, we mean someone who not only knows how to bead and can read a pattern but also someone who has a strong command of our style and really knows the ins and outs of every stitch. Add to this an understanding of how to illustrate the stitches and countless bead types. I know in Meredith's hands the patterns you read have been well cared for.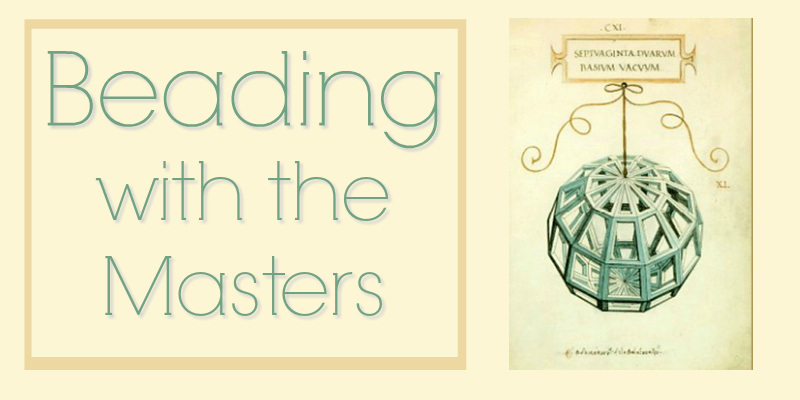 Meredith is also a great writer. Be sure to check her Beading With the Masters series, each installment is a must read!
Connie Poole—Senior Designer; Mark Dobroth—Production Designer
Connie brings a sense of style and grace to the Beadwork team and to each page she touches. From the front cover to Bead Buzz, Connie influences every bit of the look and feel of the issue. Mark is Connie's right-hand man and also offers his touch to help each issue be all it can be. Thankfully, they are both patient and have a dedication to perfection.
In addition to this amazing team, we have a team of contributors without whom there wouldn't be a magazine filled with beautiful designs! I raise my glass to each of them and offer my appreciation for their time and generosity in sharing their work.
I also offer a special thank-you to our 2018 Designers of the Year: Melinda Barta, Laura Graham, and Shanna Steele. Ladies, thank you for sharing your talents and giving us the best of you. Your designs made each issue sing and shine that much brighter. Don't miss their final DOY projects in this issue: Melinda's can be found on page 34, Laura's on page 26, and Shanna's on page 30.
There are a lot of people behind the scenes who also make it possible for us to deliver each issue to you, including our photographer and our freelance illustrator and copy editor. We appreciate each of them but most of all we appreciate you, our loyal readers.
Thank you for your dedication to the art of bead weaving, your love of learning, and your desire to be part of our wonderful community. It is our pleasure to put together this magazine for you. And if there's more you'd like to see, please be sure to drop a line—my inbox is always open. [email protected]
Tammy
Editor, Beadwork magazine
If you'd like more Designer of the Year inspiration, be sure to check out our latest eBook, Beadwork Presents: 12 Designer Bead-Weaving Patterns, available soon!
Featured Image: Left to right: Wave of Pearls Bracelet by Sue Neel, Stardust Nebula Necklace by Agnieszka Watts, and Winter Lily Cuff by Evelína Palmontová
---
Subscribe to Beadwork so you don't miss an issue!