Beads, Baubles & Jewels: The Art of Jewelry
Beads, Baubles & Jewels is celebrating their 26th season! Producer Kathie Stull shares this about the show: "Beading is culturally diverse, echoing designs from all over the world. Beading is the easy way to accessorize clothing, or décor with personal expression. And that is what Beads Baubles & Jewels is all about: education, inspiration and personal expression. Every program teaches viewers the techniques they need to make their own jewelry starting with the basics. Then we inspire them with guest artists and their creations. Lastly, we show them how to use jewelry as an expression of their style and heritage."
Kathie also shares the following about the season's theme, "The Art of Jewelry:" "The making of jewelry is its own form of art, with beads and metal (and more) replacing paints and brushes. This season we'll look to artists, eras of art history, and art terminology to inspire artful designs. Today's designers channel the masters as they create the Art of Jewelry on Beads, Baubles, & Jewels."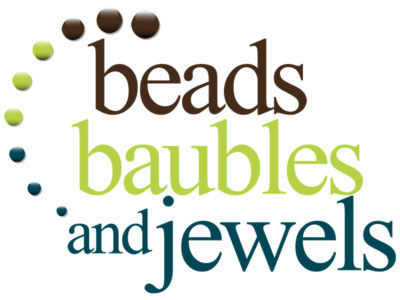 Jewelry-Making Partners
Interweave is a proud sponsor of Beads, Baubles & Jewels and throughout the season we will be bringing you a peek inside what each episode holds for you. Some of your favorite artists will also be adding in their experiences, so stay tuned! For a close up look at Episode 1, read: Beads, Baubles & Jewels: In the Eyes of An Artist.
The season holds 13 episodes jam packed with jewelry-making education and fun. It's not all fun and games though, as each episode takes hours of preparation time to make it look "easy" and so you can really take away good skills. The extra prep also helps with the "magic of TV" so you don't get bored watching the weaving of an entire seed bead design or an entire bracelet soldered together, piece by piece.
To follow are some fun scenes from this season.
From the Green Room
The green room is a bustling place with guests arriving and setting up their "step outs" and finished jewelry designs. Here's a look at my set up for one segment.
People visit and friends catch up in the green room. We also anxiously wait for the "on-set" monitor to spring to life, showing Katie and her guest "live!" There are cheers for great successes and overall wonderful comeraderie. And should your forget something you need — a tool, a bead, a piece of clothing — someone will likely have exaclty what you need.
Speaking of the monitor, here's Ashley Bunting from Xuron and Katie on set trying to find a little critter who flew through their segment. I happened to be in the green room while this was happening. It was hysterical to watch them work through the take before the director called "cut," and then as they tried to track the intruder down so they could get back to work!
Of course, selfies abound in the green room (preferably post make-up)! Here, Brenda Schweder meets first-time guest Aja Vaz, a phenomenal glass bead maker (Brenda admits to tackling Aja for her necklace immediately following this pose! LOL!!)
On Set
We move from the green room to the live set, carrying our trays filled with our carefully laid out segment pieces. We transfer everything to the table we will be sitting or standing at while filming. All the parts and pieces are then carefully arranged for Kathie's review. She walks through the plan then edits out the pieces we think we need but she can see we really don't — she has an amazing eye.
We walk through our segments with the director and the film crew to make sure we all know our cues, then we get rolling. The video team is aces and make filming easy and very enjoyable.
And speaking of trays, this is one of Brenda Schweder's trays post-filming! She shares, "Arriving on set, I'm as organized as I'll ever be with my piece in several stages of "Magic of TV" readiness. But afterward, all bets are off and my normal artist-chaos habits return tenfold!"
There really is a magic to filming and working with Katie, Kathie, and everyone involved with Beads, Baubles & Jewels. We are a tribe of makers and friends all coming together to share as much as we can with all of you. Our collective goal is to inspire and help further your jewelry-making adventure and bring you in as close to the table as we can.
It's an honor to be part of the show and my privilege to bring this "behind the scenes" to you. Thank you for joining us and stay tuned for more on this season — there is much art to be shared!
Tammy
Editor Beadwork magazine, Editorial Director for the Interweave Bead & Jewelry Group
Check out the Beads, Baubles & Jewels page for the inside scoop on each episode in the 2600 series.
---
Don't miss an issue of Beadwork magazine!