An Insider Look: Working as a Vendor at a Bead Show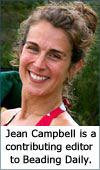 Beading Bucket List
I haven't seen that movie The Bucket List yet, but I like the concept—you know, the one that says a person should create and execute a grand "to do" list before they kick the proverbial pail? My bucket list includes things that I'm sure are on many of your lists . . . visiting the Great Pyramids, going hang-gliding, learning the tango, helping build housing for the homeless, and learning to raise chickens (what, that last one isn't on your list?).
I have a beading bucket list, too. It includes lots of bead-related travel, of course. At the top of the list, however, is finishing up that huge Haitian-style sequined flag I started four years ago!

Life as a Bead Gypsy
One unusual item on my beading bucket list was to try my hand as a bead gypsy: to work as a vendor at a bead show. So when I recently had the opportunity to help my friends Betcey and Mark at Beyond Beadery set up, work, and tear down their booth at a bead show, I jumped at the chance.
Let me tell you, after this behind-the-scenes experience, I will forever appreciate the smiling faces behind every bead show booth I've ever visited. I always knew these people were a special breed but to experience it firsthand is quite a different story.
Bead show vendors often have to travel cross-country for days, sometimes in large trucks filled with wonderful wares; the tables, racks, trays, and lights to display them; plus the wide variety of tools and equipment to physically construct and dismantle that display. They work long hours with only minimal time outside a 100-foot square area. They battle fatigue, backache, convention center food, and shoplifters, hoping to make booth and travel costs. And then they pack it all up, move on to the next city, and do it again!
One realization I had during the week is that these folks continue the tradition of bead trading as it's been for a thousand years. They are the modern-day tinkers or gypsy caravans, rolling into town to show off the newest wares and techniques. And they truly are a fluid pulse for the beading world—a great communal resource for new products and beading trends. 
Naturally, my part-time bead gypsy persona turned part-time bead shopper pretty easily, and I came home with what seems like my weight in beads. My most exciting purchases?
The brand-new size 15° Delica beads. I'm finding they are extremely consistent and a delight to work with.
Toho's new permanent galvanized seed beads. I just can't wait to see how they hold up to my hot little hands!
Perhaps "use up my bead stash" would be a good one to add to my bucket list? Nah—not with all those beady trips I'm sure to be venturing on!
 Jean Campbell writes about beading and life every Wednesday on Beading Daily. If you have comments or questions for Jean, please post them on the website. Thanks!