5 Beading Books You NEED on Your Bookshelf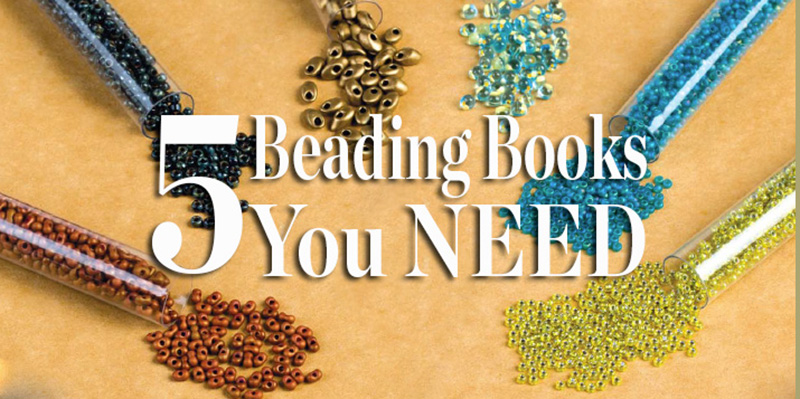 You know we're big fans of beading books here at Interweave. As editors, we all have our favorites, and you, our loyal readers, have told us your favorites. What about those of you who are just getting started in the world of bead and jewelry? Do all the books available overwhelm you? Are you unsure of what book is really worth the bookshelf real estate? Or perhaps you're a beading veteran who thinks, "eh, do I really need that?"
I'm here to help. I ♥ BOOKS! Consider me your bookshelf realtor. I've put together a great list of books that your bookshelf (whether physical or digital) shouldn't be without. These five books are all technique based, which means they include a lot of essential how-to information vital to our craft. They'll be relevant today and years from now when you're looking for a refresher.
5 BEADING BOOKS YOU NEED TO OWN
#1 Modern Beaded Lace
We really can't rave enough about how fantastic the information is in Cynthia Newcomer Daniel's book, Modern Beaded Lace. It is going to be on every single one of my "best" lists until it's no longer in print, it's that good.
Stitching unique beaded lace jewelry designs is taken from "Wow, that's beautiful, I wonder how you do that" to "Wow, I can do this!" with the expert guidance in this book. Cynthia is an experienced designer and instructor, which is so important. Teaching others uniquely prepares you to provide instruction in books. You can see that evidence in how thorough and detailed the basic techniques are, how comprehensive the information is on elements of beaded lace is, and how methodical the project instructions are.
#2 Mastering Herringbone Stitch
Did you know that herringbone is second only to peyote stitch when it comes to the most popular stitches among beaders? It's true! And as you flip through the gorgeous projects in Mastering Herringbone Stitch you'll see why.
This book will truly help you master herringbone stitch. Whether it's the very first time you've tried it or you're looking to challenge yourself with tubular twists and spirals. It's the most comprehensive resource on the market when it comes to herringbone stitch, making it an absolute must-have. Really, its subtitle says it all. It's The Complete Guide.
#3 Mastering Beadwork
Looking for a general, all-around guide to almost everything beadwork? Then Carol Cypher's Mastering Beadwork is the best book to have in your bead studio. In this longtime best-selling book, Carol covers numerous off-loom bead weaving techniques.
Just a few of the techniques covered include: peyote stitch, netting, square stitch, ladder stitch, triangle weave, African helix and polygon, brick stitch, and bead crochet. Along with the basics of each technique, there are projects that feature that method of off-loom bead weaving. Having those examples to stitch up and practice your new skills is such a great bonus!
#4 Bead Embroidery Stitch Samples
Oh, how we love stitch dictionaries here at Interweave! Comprehensive books packed with motifs to stitch are common in the fiber arts community, but on the rare side for beaders. This book is hands-down the best option if you're looking for a resource that sparks your creativity and allows you the freedom to work outside the confines of a specific pattern.
Looking for a sweet little picot edging to embroider around a lovely gemstone? Bead Embroidery Stitch Samples has those! Want beautiful symmetrical patterns to embellish a cuff? Yes, it has those too. Need some inspired whimsy with delicate details? You guessed, this book has a whole lot of that as well. And, a great companion book to own with this is Bead Embroidery Stitch Samples: Motifs. It's filled with over 120 sweet beaded motifs to enhance your work.
#5 Exotic Adornments
Every "best-of" list needs an aspirational item. A little special something that's just plain beautiful. Each time you reach for it, you'll pause to admire the incredible work of the author and think, "I want to make beautiful things like this too." Exotic Adornments is that piece of luxury your beading bookshelf needs.
Author Kelly Weise is known for gorgeous opulent beaded jewelry designs and she really doesn't disappoint in this book. Each one of the 18 projects is over the top in its style. Some are so extravagant it's easy to imagine the piece among The Crown Jewels. Don't believe me? Check out the Gala necklace on page 128 and tell you don't think the Queen of England would wear that beauty!
Did your favorite beading book make the list? If not, share in the comments below so other beaders can add to their collection!
—Kerry Bogert
Editorial Director, Books
---
Stock up on must-have beading books!