4 Ways to Finish Flat Peyote Stitch
4 Ways to Finish Flat Peyote Stitch
One of the most common questions I receive (other than "What's for dinner?") is "How do I finish a flat peyote-stitched bracelet so I can wear it?"
As with most beadwork projects, there are a hundred ways to skin this potato, and those are only limited by your imagination. In her book Findings and Finishings the ever-resourceful Sharon Bateman shows several innovative ways to finish flat bracelets, including a couple wonderful stitched clasp versions and a third which involves a wireworked finding that's surprisingly straightforward to make. Sharon's clasp versions are beautiful and integrate the clasp and beadwork into one beautiful whole. Her clasps are definitely part of the overall design and add to the look of each piece.
Handmade finishings are wonderful, but there are times when a commercial finding is just the thing, too. Here are 4 of the most common ways
to finish flat peyote-stitched bracelets with store-bought findings:
1. Foldover crimp end

This little metal finding, also called a "basketweave crimp" is shaped like a square taco. It's usually used for finishing off a ribbon or leather end, but it can also be used for finishing peyote stitch. Just dab a little clear jeweler's adhesive inside the fold, place the beadwork inside the finding, then use flat-nose pliers to very gently close the finding over the beadwork. (Don't squeeze too hard or you'll break beads!) Once the glue is dry, just attach your clasp to the loop at the end.
2. Magnetic clasps

Magnetic clasps work especially nicely for finishing peyote-stitched bracelets because the magnets allow you to just slap and wrap—no need to fuss with a clasp catch or hook. And, because they're small, you can add more than one to the end and the closure still works. Use strong thread (like FireLine) to stitch these clasps directly to the beadwork. (I quickly stitched these to my little sample to show you where to position them, but if I were going to do this for real I would repeat my thread path as many time as the beads would handle for strength.) Note: If you wear a pacemaker, don't use these clasps or magnetic anything!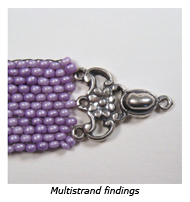 3. Multistrand findings

A third way to finish would be to stitch a connector or clasp to the end of the beadwork that's about the same width as the beadwork. Here I've added a 3-to-1 connector, but a 3-loop clasp would work equally as well. Again, you'll want to stitch your beadwork so it's very strong, and perhaps even consider adding small segments of French wire to your thread at those points so you have a metal-to-metal connection rather than a metal-to-thread one.
4. Buttons
Placing a pretty button at one end of your beadwork and stitching a loop at the other end is a great way to turn a strip of peyote stitch into a unique piece of jewelry. Julie Ann Smith's The Illusion bracelet is a good example. Julie's bracelet is part of Peyote Stitch Projects with Beading Daily: 5 Free Peyote Stitch Patterns. I know—that title's a mouthful, but the patterns are an eyeful! And as a Beading Daily member, you get it for free. Download it now!
Do you have some tips for finishing flat beadwork? Share them on the website.
---
Jean Campbell writes about beading and life every Wednesday on Beading Daily. If you have comments or questions for Jean, please post them on the website.
---