4 Tricks to Keep Your Beads on Your Thread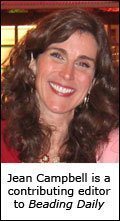 4 Ways to Say Stop
From stopping wayward advances . . .
When I was in college, I studied for a summer in England. Medieval Architecture. I learned a lot, of course, but the real reason I went across the drink was to see the world. I spent my summer session in Birmingham and its surroundings but was eager to hit the continent. I had a Eurail pass, a copy of Frommer's Europe on $5 a Day (that dates me!), and a whole lot of moxie. Because I'd be a kid traveling alone and a bit nervous, my wonderful U.K. professor, Rob Sawers taught me how to say "stop" in the languages of each of the countries I'd be visiting. I never had to use my newfound skill (I mean really . . . who can say "stop" in Italy?), and it was an absolutely wonderful 6-week adventure.
I laughed to myself the other day, remembering Professor Sawers's little language lesson as I tied on a "Basta Bead" (the phrase I use for a stop bead). This is a little trick I discovered a long time ago while editing Beadwork magazine. (And by the way . . . are you a Beadwork subscriber? Let's hope so . . . it really is the best bead rag around.)
. . . To stopping beads
Yeah, not so worried about stopping wayward advances these days. But stopping my beads from sliding off the end of my thread? You betcha. A stop bead is one great way to do it, but there are lots of other ways. Here's a short list:
1: Stop Bead
To create a stop bead, simply string a bead (a large seed bead works well) that doesn't look like one of the beads in your chosen color palette. Slide the bead to within 6" or so from the end of the thread and pass through the bead once . . .
. . . and then one or two more times. This will hold the beads you string in place for the first row of your project while you get going. You can easily remove the stop bead at any time.
2: Tape Trick
This is really a no-brainer. Just wrap a piece of tape to the point on your thread where you'd like to start your beadwork. No beads will slip off while you begin, and you can slide the tape off the end of the thread when you're sure everything's in place.
3: Bead Stopper
These little coiled gizmos are great for holding beads in place on stringing wire. But they also work pretty well with thread. Just take care to avoid tangles.
4: Pinky Stop
This is actually the method I usually use to stop my beads. Wrap your tail thread snugly around the pinky of your nondominant hand while you start the first few rows of a project. No muss, no fuss.
How do you say "stop" (basta, alto, arrêtes, halt, stoppen) to your beads? Do you use a bobbin or other device? Please share your methods on Beading Daily.