4 Tips for Creating a Memorable Mixed-Media Pendant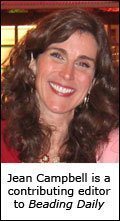 As a beadweaver, stitching an interesting chain is enough to keep me occupied as I while away the evening hours. I find that doing the same stitch over and over, without really having to pay attention to a pattern, is not only meditative, but serves as a brainless thing to keep my hands busy while my daughter and I watch our beloved Glee reruns this summer.
I could stitch yards of beaded rope, but what about when I want to turn my efforts into a piece of jewelry? For a necklace, I'd need to make a clasp connection, of course. Coming up with a focal piece is always a major challenge. Oh sure, I've got a whole drawer full of big focal beads. But they don't always fit the bill.

So, inspired by Kristal Wick's upcoming article "Muslin Pendant Remix" in Cloth, Paper, Scissors, I've done some experimenting with making my own multi-media focal pieces. Here are some observations and suggestions:


Muslin pendant by Kristal Wick
1. Try unusual materials for the background of your piece. Instead of going right to metal, which would be my logical choice, why not try fabric or felt? Kristal did just that with her beautiful muslin pendants.
| | | |
| --- | --- | --- |
| | | 2. How about using permanent ink to stamp on a large blank bead? With the focal beads shown here, I used rubber stamps and black permanent ink, colored inside the lines with permanent markers, then finished them off with some clear acrylic spray. |
| | | 3. Think about your hanging holes! Place the holes or rings so the pendant will hang as you'd like–either evenly or asymmetrically. |
| | | 4. Watch faces provide a great base for collaging with resin. Just remove the watch's back, add your mixed media, pour a small amount of resin over the collage, let dry, and replace the watch back. The side bars that would usually connect to the watchband work great as connecting points for a stitched rope. |
Another way to explore mixed-media magic is subscribing to Cloth Paper Scissors. That magazine is guaranteed to keep your mind reeling. Be careful if you read it before bedtime.

There are myriad ways to make your own mixed-media focal pieces. Do you have an easy technique you'd like to share? Are you a Gleek, too? Please share your stuff on Beading Daily.