Chain Maille Waves of Glass Kit
Dive into chain maille weaving! Whether you are new to the weave or want to advance your skills, the Waves of Glass Collection is the project for you.
SKU:
R3804-CMW2016-BUNDLE
Details
Details
Heighten your chain maille weave with unbeatable glass donut beads!
Are you ready to sharpen your chain maille skills? If so, then artist Michelle Brennan has the ideal project for you. In no time, you'll learn to weave glass donut beads into a desirable chain maille design. The Czech glass beads are a staple of this collection and you'll be in awe once you've finished. Get started to make one for yourself and one to give as a gift.

For ONLY $38.99, make two bracelets in two beautiful colors of glass donuts - plus, improve your chain maille skills with ease!
See what's inside this collection: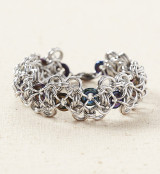 Waves of Glass Kit
Supplies
Shine like the glimmering sea when you create this chain maille bracelet with the supplies included:
14 9mm blue iris Czech pressed glass donuts
14 9mm Montana blue Czech pressed glass donuts
48 18g SWG 5/32" bright aluminum jump rings
82 18g SWG 3/16" bright aluminum jump rings
104 18g SWG 13/64" bright aluminum jump rings
104 18g SWG 7/32" bright aluminum jump rings
104 16g SWG 7/32" bright aluminum jump rings
2 15mm stainless steel lobster clasps
Step by Step Chain Maille Jewelry 2016
Magazine
This special publication is presented by the editors of Step By Step Wire Jewelry to bring you 20 engaging chain maille projects, as well as three brand new projects from chain maille maven Michelle Brennan. From elegant to contemporary, beginner to advanced, you'll find the perfect jewelry project that captures your eye and skill. This magazine also includes feature articles on different colors and types of jump rings available, and on how to do the math as you plan your own chain maille creations. For anyone who wants to dive into the world of chain maille making, this publication is a must-have!
Additional Info
Additional Info
| | |
| --- | --- |
| SKU | R3804-CMW2016-BUNDLE |
| Author/Speaker/Editor | N/A |
| Size | N/A |
| Number Of Pages | N/A |
| Runtime | N/A |
| ISBN 13 | N/A |
| Drop Ship Message | N/A |
| Product Type | Kit |
| File/Trim Size | N/A |
Reviews