Pineapple Right Side Up Collection
Channel the tropics with this pineapple-themed collection. With four pineapple-stitch projects to work in, crochet your pineapples all summer long!
SKU:
EP6641-EP6642-EP10522-EP13157-BUNDLE
Details
Details
Pineapple Right Side Up Collection
Crochet pineapples all summer long with this collection of pineapple patterns!
Pineapple-pattern garments are perfect for summer weather! A certain crochet editor we know has five Capri Covers (so far) and wears them all summer long. This collection also includes the Coogee Bay Dress (which is terrific at tunic length), the dainty yet playful Pineapple Skirt, and the elegant Pineapple Sheath (which can be made into a great skirt)!
Download your Pineapple Right Side Up Collection today!
See what's inside the collection: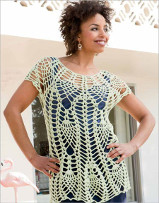 Capri Cover Crochet Pattern
Coogee Bay Dress Crochet Pattern
Pineapple Skirt Crochet Pattern
Pineapple Sheath Crochet Pattern
Additional Info
Additional Info
| | |
| --- | --- |
| SKU | EP6641-EP6642-EP10522-EP13157-BUNDLE |
| Author/Speaker/Editor | N/A |
| Size | N/A |
| Number Of Pages | N/A |
| Runtime | N/A |
| ISBN 13 | N/A |
| Drop Ship Message | N/A |
| Product Type | Bundle |
| File/Trim Size | N/A |
Reviews
Customer Reviews (1)
Love Pineapple designs

I made the" Coogee bay dress" in pale peach and had fun wearing it. . So for some winter fun, I started making one in, black.


(Posted on 5/23/2016)