Crochet Party Decorations
This crochet pattern pack includes crochet flowers, hearts, and lace jar covers, perfect for special occasions as well as everyday décor. Included are directions for assembling a bouquet, boutonniere, wrist corsage, lapel pins, and cake toppers.

This product will be accessible from My Downloadable Products located in My Account after purchase.
Details
Details
Crochet Party Decorations
This crochet decoration pattern pack includes everything you need to give crochet pizzazz to all your parties and special occasions. The roses and hearts would be at home at a bridal shower, a baby shower, a garden party and more. For a wedding, the roses combine beautifully in a bridal bouquet and groom's boutonniere; the crochet hearts become beautiful guest pins, cake toppers, gift adornments, "confetti", and more. The directions include a time estimate, so you can plan out your DIY wedding. For a prom, crochet a wrist corsage and boutonniere for mementos that will last.
And there's no need to wait for a party to crochet these projects! Change up the colors to reflect your decor and crochet all the projects! The lacy jar covers are perfect for year-round decor: tuck an electric candle in a pint jar wrapped in lace and let the light play through the lace. Or use the cover as a cozy for your homemade jams. Make one of every kind of motif and attach them to a stick, then prop in a lace-wrapped jar to add instant delight to your table. Crochet hearts and tuck them inside a card to brighten somebody's day.
With this pattern collection, you can create crochet joy for any occasion or every day.
Download the Crochet Party Decorations pattern collection today!
See what's inside this crochet pattern collection: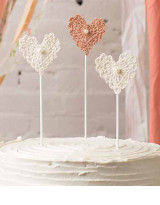 Project Details:

Finished Size: Varies depending on the project. LACY JAR COVER: about 4" tall from base of pint Mason jar; LARGE ROSE: about 21/2" diameter; SMALL ROSE: about 13/4" diameter; 5-PETAL FLOWER: about 11/4" diameter; SMALL HEART: about 11/2" wide and 11/4" tall; MEDIUM HEART: about 2" wide and 11/2" tall; LARGE HEART: about 21/2" wide and 21/2" tall; BOUQUET: about 7" diameter and 91/2" tall; WRIST CORSAGE: about 4" wide and 61/2" long; BOUTONNIERE: about 3" wide and 41/2" long
Yarn: Aunt Lydia's Fashion Crochet Thread Size 3 (distributed by Coats and Clark) (100% cotton; 150 yd [137 m]/13/4 oz [50 g]; ): #226 natural (A), #310 copper mist (B), #926 bridal white (C), 2 balls each; #625 sage (D), 1 ball.
Hook: D/3 (3.25 mm) and F/5 (3.75 mm). Adjust hook size if necessary to obtain desired gauge.
Notions: Yarn needle; hot glue gun and glue; industrial strength craft glue; LACY JAR COVER: 3 pint-sized Mason jars, optional: 2 yd of 5?8" wide ribbon; LARGE ROSE: beading needle, one 8 mm glass pearl bead for each rose; BOUQUET: 71/2 yd of 20-gauge green floral wire, 7 leaf elements taken from floral stems with many leaf elements, 3 yd of 11/2" wide wire-edged off-white ribbon, green floral tape, medium-sized rubber band, needle nose pliers; WRIST CORSAGE: 2 fabric leaf sprigs, 4 fabric rose leaves, 1 pearl accent, 2 yd of 5?8" wide wire-edged off-white ribbon, 1 elastic off-white satin wristlet, two 21/2" wide and 11/4" long white felt pieces; BOUTONNIERE: 1 fabric leaf sprig, 1 pearl accent, about 6" of 3?8" wide off-white ribbon, floral tape; GUEST LAPEL PINS: two 6 mm glass pearl beads, 6 pin backings; CAKE TOPPER HEARTS: one 6 mm glass pearl bead for each piece, three 7" long wooden skewers, fabric stiffener.
Gauge: Not crucial for these projects; LARGE ROSE Row 1 = 7" long; SMALL ROSE Row 1 = 4" long.
Originally Published: Interweave Crochet Summer 2015
Additional Info
Additional Info
| | |
| --- | --- |
| SKU | EP13165 |
| Author/Speaker/Editor | Jennifer E. Ryan |
| Size | N/A |
| Number Of Pages | 0 |
| Runtime | N/A |
| ISBN 13 | N/A |
| Drop Ship Message | N/A |
| Product Type | Pattern Download |
| File/Trim Size | N/A |
Reviews