Deluxe Flex Shaft Collection
Regardless of skill level, you can add the flex shaft to your jewelry making! Beginners will have everything they need to get started with this incredibly versatile tool while those with more experience can add another tool to their bench.
Details
Details
Make your flex shaft work for you with hours of video instruction by the best in the business. In this deluxe collection, you'll also receive the economy flex shaft and accessory set from Contenti!
In this collection, Travis Ogden and Andy Cooperman get you comfortable with the flex shaft! Whether it's maintaining the flex shaft, grinding, sanding, finishing or polishing your designs in metal, stone or wax, Travis walks you through instructions. He also shows you how to use your flex shaft to create wax molds for casting metal. Then, watch Andy Cooperman as he uses unconventional techniques with burs, mandrels, separating disks and rubberized abrasives in unique, timesaving ways. Andy later reveals his top picks for handpieces, as well as fun tips and tricks, such as how to turn your flex shaft into a lathe. Don't forget to take advantage of the included classic no. 30 style handpiece, as recommended by Andy and Travis! This complete accessory set comes with motor, foot control and carrying case.
See what's inside the collection:
Master the Jewelry Flex Shaft with Andy Cooperman, Volume 1: Burs, Mandrels, Sanding/Grinding, Rubberized Abrasives & Finishing Volume 2: Hammer Handpieces, Special Tips & Tricks
DVD
Join metalsmith Andy Cooperman and start your journey into mastering the jewelry flex shaft! In Volume 1, Andy uses burs, mandrels, separating disks, and rubberized abrasives in unique, timesaving ways. You'll learn various and useful techniques, such as new twists on drilling and how to create a hammered finish with a rubber wheel. In Volume 2, he divluges his top picks for handpieces, as well as fun tips and tricks to turn your flex shaft into a lathe. He'll also explain how a hammer handpiece can be used for stone setting, riveting, and upsetting by capitalizing on its ability to combine force and accuracy. This video takes an expansive and non-traditional look at the accessories, attachments, and endless possibilities of the flex shaft.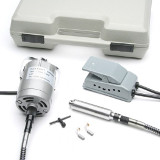 Economy Flex Shaft - Hand Grinder
You will find this economy flex shaft to be incredibly useful. To allow for enhanced durability, the sheath that houses the flex shaft is spring-reinforced at both ends. It comes furnished with: No. 30 style handpiece (1" diameter), chuck key, carbon resistance foot control, shaft with reinforced sheath, fitted carrying case and 1/8 HP motor.
36-Piece Flex Shaft Accessory Set
This set features an array of tools for use in your flex shaft or Dremel machine. All have 3/32" shanks.
Mounted Wheels in brass and steel
Mounted Bristle and End Brushes
Snap-On Abrasive Discs with mandrel
Sanding Drums with arbor
Felt Buffs
Rubber Abrasive Wheels and Points
Set of 5 Assorted Burs
Set of 4 Mounted Stone Points
A variety of Miniature Mandrels
Metalsmithing Essentials: Intro to the Flex Shaft
DVD
Join metalsmith and jewelry maker Travis Ogden in seven watch-and-learn lessons for everything you'll need to know and bring your jewelry making skills to a professional level using the flex shaft for your work. Easily enhance all your metal jewelry with this useful tool! Expand your knowledge with detailed jewelry making instructions for everything from maintaining the flex shaft to grinding, sanding, finishing and polishing your designs in metal, stone or wax.
Flex Shaft Essentials: Carve a Wax Model for a Pendant with Travis Ogden
DVD
Join metalsmith Travis Ogden for his video workshop dedicated to teaching you how to carve a wax model for a pendant. Watch as Travis transforms a block of wax into a stylish wax model that can be used to create a mold for casting into your metal choice. Including important design considerations and tips for achieving the illusion of varying thickness, and important information for carving with the flex shaft, this workshop DVD is a must-have for anyone interested in learning how to successfully carve a wax model at home.
Additional Info
Additional Info
| | |
| --- | --- |
| SKU | R4997 |
| Author/Speaker/Editor | N/A |
| Size | N/A |
| Number Of Pages | 0 |
| Runtime | N/A |
| ISBN 13 | N/A |
| Drop Ship Message | N/A |
| Product Type | Collection |
| File/Trim Size | N/A |
Reviews