Cristie Prince's Queen of Diamonds Bracelet Kit in Purple/Silver
Using right-angle weave, you can make a piece that's sparkly enough for a queen, but without the high price tag of fine jewelry! Get started creating this incredible bracelet with the royal purple colorway.
SKU:
R4412-EP13903-BUNDLE
Details
Details
Indulge in beautiful, sparkly jewelry with the Queen of Diamonds Bracelet! Then discover nine other projects in the Bead Royale eBook that also feature crystals and pearls.
If you'd like to create beaded jewelry that would make the British royal family jealous, then the Queen of Diamonds Bracelet Kit is a must-have! Inspired by Cristie Prince, you'll be able to make brilliant pieces that capture the look and feel of heirloom fine jewelry. Start with the Queen of Diamonds Bracelet, a simple project that works up quickly with right-angle weave. You'll love the sparkle of the royal purple! Then move on to the remaining projects in the eBook, including three previously released best-selling patterns - the Princess Kate Bracelet, Tudor Earrings, and Princess Charlotte Bracelet.
See what's inside the kit:
Queen of Diamonds Bracelet Kit - Includes enough materials for 13 components or a 9" bracelet
Supplies for Purple Colorway:
0.4 g dark purple transparent size 15° seed beads (A)
2 g purple size 11° metal seed beads (B)
2 g purple size 8° metal seed beads (C)
3.5 g silver 3.8x1mm O beads (D)
16 silver 3x6mm Infinity beads (E)
13 clear 4mm chaton montees with 4 holes (F)
1 silver 10x24mm silver fold-over clasp with rhinestone inlay, or similar clasp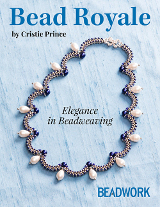 Bead Royale: Elegance in Beadweaving
eBook
Would you like to have jewelry that could be mistaken for what Lady Diana, Princess Kate, or Princess Charlotte might wear? Now you can with this eBook by Cristie Prince! You'll find 10 projects to complete, all of which use crystals and pearls for fantastic sparkle. Seven of these projects are Cristie's latest and aren't available anywhere else.
Projects
Princess Charlotte Bracelet
Queen of Diamonds Bracelet
Corona Necklace
Jubilee Necklace
Crown Tassel Necklace
Princess Kate Bracelet
Lady Diana Necklace
Marchioness Bracelet
Reign Drops Earrings
Tudor Earrings
This kit is also available in Silver Colorway »
Additional Info
Additional Info
| | |
| --- | --- |
| SKU | R4412-EP13903-BUNDLE |
| Author/Speaker/Editor | N/A |
| Size | N/A |
| Number Of Pages | N/A |
| Runtime | N/A |
| ISBN 13 | N/A |
| Drop Ship Message | N/A |
| Product Type | Collection |
| File/Trim Size | N/A |
Reviews