Baroque Sonata Bracelet Kit
Romance, drama, intrigue - create the Baroque Sonata Bracelet and find instructions within the pages of the special issue magazine, Favorite Bead Stitches 2016.
SKU:
T6125-EPBI1600-BUNDLE
Details
Details
Add drama to your beading designs with the Baroque Sonata Bracelet!
Inspired by the ornate music of the baroque era, this bracelet project pitches pearlized baroque seed beads in counterpoint to a trio of graduated drop beads. Work with peyote stitch, picot and fringe to showcase the artistic excitement and exuberance of this romantic time period.

For ONLY $45.99, receive the special edition, Favorite Bead Stitches 2016 and the supplies needed to bead this sculptural jewelry piece!
See what's inside this collection:
Favorite Bead Stitches 2016
Digital Magazine
With 30 projects handpicked from the editors of Beadwork magazine, your beading inspiration has arrived in this collector's edition! Discover fun variations on popular beading techniques, such as peyote stitch, brick-stitch and herringbone stitch, and work with leather, fringe, shiny crystals and more! Become enchanted by elegant beading pieces inspired by antiquity, like the Ravenna Earrings by Glenda Paunonen and Liisa Turunen and the Baroque Sonata Bracelet by Sandie Bachard. With a variety of beading projects that span from trendy to vintage, challenging to quick and easy, dive into your next design today.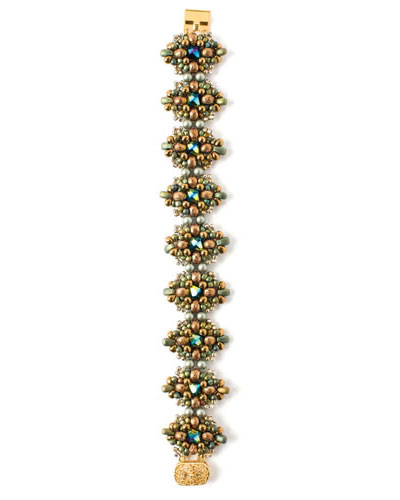 Baroque Sonata Bracelet
by Sandie Bachard
Kit
Make this beautiful bracelet that is featured in Favorite Bead Stitches 2016 and receive the necessary supplies:
Metallic yellow gold size 11 seed beads
Matte metallic patina iris size 8 seed beads
Antiqued brass size 5 Baroque pearlized seed beads
Matte metallic patina iris 2.8mm Japanese drops
Metallic dark bronze 3.4mm Japanese drops
Matte metallic patina iris 3×5.5mm long Japanese drops
Jet AB2X 6mm crystal bicones
Powder green 4mm crystal pearls
1 gold 14×17mm filigree 2-strand oval box
clasp with jump rings
Note: This project is originally sized at 7 ½ inches. Extra beads are included in each kit for culling and sizing changes, but for drastic sizing difference, please either purchase multiple kits or visit your local bead store.
Additional Info
Additional Info
| | |
| --- | --- |
| SKU | T6125-EPBI1600-BUNDLE |
| Author/Speaker/Editor | No |
| Size | No |
| Number Of Pages | No |
| Runtime | No |
| ISBN 13 | No |
| Drop Ship Message | No |
| Product Type | Collection |
| File/Trim Size | No |
Reviews